Development of participatory and accountable decision-making processes via panisamitis(water committees) which will plan and over see the construction and maintenance as well as formation of a Water Federation to handle large-scale water security issues
The pani samiti was the crucial decision making and executing body in the construction process. These pani samitis comprised approximately 200 people and represented all the community groups within the village.Women were represented in all the samitis.A consequence of this composition was that the villages have once again learnt to work as a collective and think together for the development of their village.They faced the various challenges together, joined by a common goal.The fact that all the accounts were publicly displayed,and budgets and expenditure was open to scrutiny was something that was much appreciated by the community at large. The fact of being collectively responsible and having the gratification of seeing it succeed so immediately was something that has transformed the atmosphere from one of cynicism and indifference to one of engagement.
The Water Federation was formed in 2012.This federation comprises 30 persons,representing the various pani samitis.The purpose of this federation will be, as envisaged,to discuss and plan for water security in the area around the Sambhar Salt Lake.
Plantation
A total of 905 trees have been planted in the periphery of each structure. 90% of these trees are alive. An additional number of approximately 615 trees have naturally taken root in the periphery of these structures.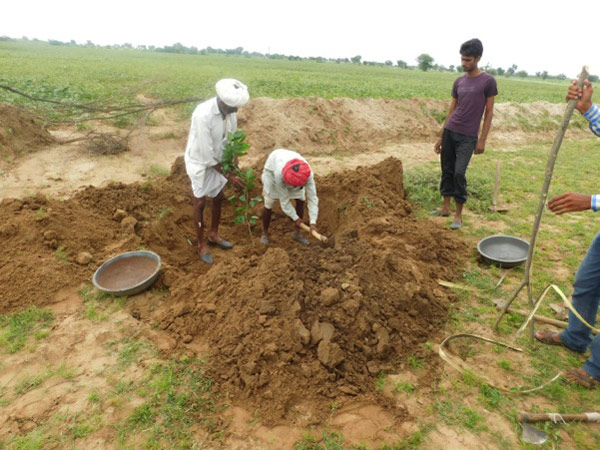 The trees that were planted were
Neem/MargosaIndica
Kejri/Prosopis Cineraria
Bad/banyan
Pipal/FicusReligiosa
Ardu/Ailanthus Excelsa
Babool/Acacia Nilotica
Ker/Capparis Decidua
Karanja/PongamiaPinnata
Sisam/DalbergiaSisoo
All of the species selected are native species and are good for the soil, and useful either as fodder, for shade or both. The selection of the trees, some of them considered sacred, was done by the communities themselves and is an indication of their appreciation of the water bodies that have been created. The fact that trees like the kejri, pipal and banyan take decades to grow to their full dimensions and have long lives is testimony to the fact that the community intends to maintain and preserve these water bodies for a very long time.
Table : Number of trees planted on the periphery of the reservoirs
S.No

Type

Location within village

Village

Number of trees

1

Banda

Charagah

Nosal

50

2

Nadi

Charagah (kumhariya)

Bawali

3

Banda

Near Balaji mandir

Kotri

4

Banda

Charagah

Kotri

5

Banda

Near Khedi ka dhani

Jhag

50

6

Nadi

Charagah

Ringi

7

Nadi

Charagah

Habaspura

8

Nadi

Moosani (shamshanbhoomit)

Kishanpura

9

Banda

Khori

Bhilawat

10

Nadi

Abas ki nadi

Sinodiya

–

11

Nadi

Bausitiba

Sinodiya

–

12

Channel

Dheera talaab(feeder channel)

Jhag

10

13

Nadi

Charagah

Srirampura

–

14

Nadi

Charagah

Bawali

–

15

Banda

Moriya naka

Ujoli

40

16

Kund

Jeevan pujari kighati

Bawali

–

17

Nadi

Solawata

Solawata

300

18

Anicut

Dungrinaka

Kotri

–

19

Nadi

Tal

Jhakholai

50

20

Nadi

Charagah

Jajota

40

21

Banda

Ghasi baba ka banda

Gudda

25

22

Kund

Balaji ki dhani

Balaji ki dhani

70

23

Anicut

Sewako ki nadi

Sewako ki nadi

50

24

Nadi

Bhagat ji kagulla

Gudda

–

25

Nadi

Jogi baba

Mohanpura

–

26

Nadi

Mordikala

Mordikala

10

27

Nadi

Gochar

Pingoon

10

28

Nadi

Bansi

Kankaria

300*

29

Banda

Naal ka banda

Gudda

–

30

Nadi

Devnarayan Mandir Charaga

Kardala

–

31

Kund

Plantation

Bagariyonkidhani

50

Total:

1,055
* 50 saplings were planted on the periphery of the lake and an additional 250 were distributed amongst households given the availability of freshwater